Paint colours, interior and exterior, form the backdrop for every other décor and accessory at home. Choosing the best paint colour for home is definitely tedious as there are several choices, as much as different opinions from members of the family. One can have a theme running through the whole house, or have different ones for each room or even experiment with colours and just aim to look trendy and attractive. No matter your preference, Nippon Paint India has the best waterproof paint colour for your homes that can withstand all climatic conditions.
Take this as a guide from our own experts to choose the best paint colour for home in 2021, and make your house look perfect. This is a list of colours and combinations for both interior and exterior. So, it is safe to say that we've got it all covered.
Here are the best paint colour for homes that Nippon Paint India offers.
Interior paint colours for home
If you have a space that is not well-lit with natural light, mint green is a great choice. It creates a warm environment and makes the space look bigger and lit up. Light colours have the charm of making a space brighter with their reflection of light, and Nice Mint (NP BGG 1598 P) is the best paint colour for home and the perfect shade for such a space. It does not matter if it is a small space or a large one, mint green is here to give a quirky yet sophisticated look to your room.
Picked Plum (NP PB 1415 D) is an earthy and homey colour that brings the raw feel to the house. This is mostly preferred in kitchens with brown cabinets and wooden flooring. Pairing it with brown accessories increases the earthy feeling, providing with the perfect mood for kitchen and the best paint colour for home. While the shade looks warm, it gives a calming effect to the room. Apart from kitchen, this hue is suitable for spaces which you want to look cozy, intimate, and calm.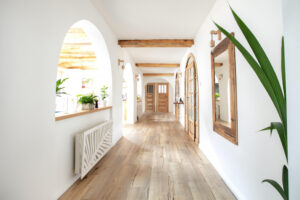 Is there a space that's often dull and forgotten? Or is there a space that you would like to have a playful essence all the time? Bright Smile (NP YO 1155 A) is the best choice for these spaces. If used as an accent with a contrasting shade like white, the bright orange pops up and creates a beautiful ambience in the room. Spaces like nursery, pantry, or even bedroom can carry this shade perfectly. Create joy with this bright shade and as the name suggests, it will create a bright smile on your face in return.
Exterior wall paint colour
Shades with subdued energy have always been a priority for most of the homeowners. Creamy shade like Soft Pulp (NP OW 1019 P) sits calmly and adds an elegant touch to the exterior. If you want to add depth and dynamic to this, pair it with darker shade like green or red that pop up in smaller areas, giving prominence to the lighter shade while also adding layers to the paint choices, proving to be the best paint colour for home. However, it is important to keep in mind that the creamy shade has to be the majority.
Pastels are usually considered for accent walls. However, the biggest trend in 2021 has been choosing muted pastels for exterior and have been the best paint colour for home. Nippon Paint India has some of the best pastel collections, and these can be used as monochromes or in combination with each other. Shades like Quiet Lake (NP BGG 1593 P), Trailing Pink (NP R 1301 T), etc., can stand beautiful on their own or as a combination. Pastels bring out the aesthetics of the home and provides the visitors with a welcoming vibe.
Nippon Paint India's wide range of paint shades and colours can absolutely work the best for any kind of house in any climatic conditions. We have been suggesting these choices because we understand that it is almost a permanent choice for years together. Nippon Paint India's experts have curated this with your preferences in mind, and feel free to reach them for further suggestions and customized paint ideas for your homes.